Smaller and Cooler

Better Choice in Summer
Dog Walking made easy with the new innovative All-In-One No Pull Dog Harness!
No more slipping out of their harness! This is 'slip-proof', easy hassle-free on and off. Comfortable for all breeds of ALL sizes.
Stop using the usual neck harnesses that hurt your furry-friend when pulling, treat him with comfort and respect using the All-in-One No Pull Dog Harness.
WHY IS THIS THE BEST HARNESS?
Stops Pulling - For Better Walks for You & Your Dog.
Easy-Off/ Easy On - Hassle-free On / Off in 2 Seconds.
Adjustable straps - Fits Your Dog's Body perfectly and comfortably.
EZ Grip Handle - Multiple uses including helping dogs walk, more control, and taking it off quickly.
Reflective - More visibility on night walks for increased safety and peace of mind.
High quality -Strongest material to prevent fraying seams or Hook and Loop that slips.
Multiple Colors - Find one to fit your dog's personality.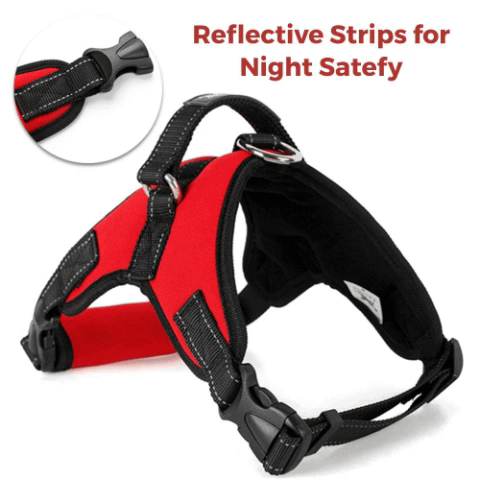 Sizing: It is recommended to choose according to the bust.
Size
NECK
BUST
Suit for pets
CM
INCH
CM
INCH
KILOGRAMS
S
40-48CM
15.7-18.9in
45-48CM
17.7-18.9in
Less than 12.5kg
M
45-54CM
17.7-21.3in
52-60CM
20.5-23.6in
12.5-20KG
L
54-67CM
21.3-26.4in
63-77CM
24.8-30.3in
20.5-35KG
XL
60-70CM
23.6-27.6in
72-91CM
28.3-35.8in
35-60KG
  ✔Size measuring by ourselves sometimes has some errors, but always within 3cm
 ✔Consider pet growth when choosing the size
 The perfect gift for your loved ones!
Go to the "leash" collection or search "leash" to choose a leash: